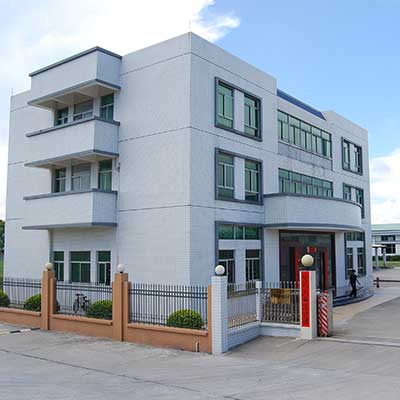 Shantou Mingda Textile Co. Ltd is a professional manufacturer which engaged in special fiber spinning and weaving, located in Xinlong Industrial Zone, Chaoyang District, Shantou, China. Adhering to the tenet " Grasp quality, Grasp future", Mingda Textile committed to development and manufacture of Aramid and UHMWPE, devoting to provide better protection solutions to customers.
Located in the beautiful coastal city - Shantou, we set a large production base in shantou, with construction area more than 40,000 square meters, and has more than 500 staff.
Our main business is Aramid and UHMWPE products, we have a perfect production line from spinning, plying yarn, weaving to finished goods, involving yarn, sewing thread, fabrics, and finished products such as gloves and sleeves, which are widely used in all kinds of special protection areas.
We have been introducing advanced production equipment and testing equipment in the textile industry, depend on many years of production experience, we has established a sound Quality Control System, Production Management System and After-Sales Service System. Our company got ISO 9001-2008 international management system certification, products passed ASTM Certification and CE Certification.
In recent years, our company pay more attention to product research and development, dedicated to improve special fabrics and finished products system, we could customize products for clients. We are committed to offer you the best service with the highest quality products, fast delivery time and reasonable price.
Our Company
Mingda Textile is a Yarn and Fabric Factory with more than 21 years' professional experience, located in a beautiful coastal city - Shantou.
Our mission
We devote to bring out the best products in professionals,in work as well as in life.
Our Purpose
Providing our customers with customized solutions for industrial and personal protection.
Countries
---
Our customers are all over 35 countries in the world.
Factory area
---
We set a large-scale production base covering 17 ac, our powerful strength guarantee you.
Professional workers
---
We have above 90 experienced staff to make sure the product quality.
Professional experience
---
Established in 2002, We have many years of professional experience, we are deserved to your trust !
ISO 9001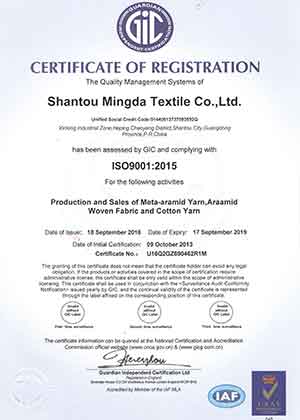 OEKO-TEX Standard 100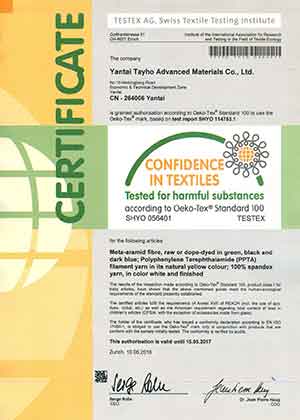 Pantent Ceritficate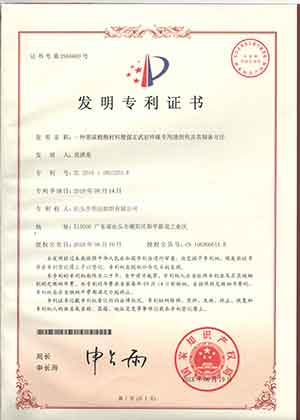 22th April, 2002

Mingda Textile Established Date

We established our own brand in this year.

1st August, 2004

Set Foshan Office

We first set in East Guangdong, after years, we deeply felt we are short of knowing the textile market in the Pearl River Delta and achieving timely information of the market. At this year, we decided to establish Foshan Office, to better close the market.

10th March, 2005

Establish Large-scale Production Base in Shantou

With development of increasing orders, the original production scale could not meet this demands. We set a large-scale production base covering 17 acres area, with building area above 40000 Square Meters.

10th December, 2006

Aramid Product On-line

Due to the low profit of traditional textile market, we were try to promote our traditional textile product line ( mainly for putting products with differentiation and individuation, like Forged Yarn, Bunchy Yarn, AB Yarn and so on ), as well as Aramid product line - Functional Yarn and Protective Fabric.

10th August, 2010

Open Sales Stall in Guangzhou International light Textile City

We always insist on market-oriented production & sales policy, for better hearing the market voice, we set up a stall in Guangzhou International light Textile City -- the famous textile distribution center.

12th September, 2013

Open Sales Office in Guangzhou Textile Exchange Park

We were stably expand our layout.

12th August, 2014

Establishment of Changzhou R & D Center

With the increase of new products and the development of functional yarn, we feel the shortage of original R & D strength. In this year, we invested in our R & D center in the Yangtze River Delta, Changzhou R & D center.

1st March, 2016

Set up Independent Aramid Production Workshop

Our Aramid products were recognized by customers in the past years, with increasing orders, we set up Aramid independent workshop, to improve product scale and keep product quality further.

August, 2017

Changzhou Branch purchased a batch of high-speed rapier looms

We have received more orders for special fabrics and purchased a batch of advanced high-speed rapier looms. These looms work very well, allowing us to deliver orders faster, and the quality of the cloth has also improved compared to the old machines.

OCT, 2020

Shantou headquarters updated winding equipment

We updated the original winding machine and installed a fully automatic device on it. Now we use less labor and have better quality.

MAR, 2021

Purchased a new batch of twisting machines

In order to meet the needs of orders, we expanded the factory and purchased a batch of new twisting machines.

2023

Keep Going

We're still on the road, let's keep going