Fireproof Sewing Thread
Mingda Textile has more than 15 years experience in providing high-quality flame-retardant yarn for the protection market. Flame retardant high strength sewing thread is our traditional product with even twist & less hairiness & higher strength than similar products on market , our engineer team is still focusing on improving product performance.
Main Features of Fireproof Sewing Thread
Excellent strength, superior than similar products on market
Optimized processing method to even twist and reduce broken needle
Excellent high temperature property, work stably in 200°C for a long time, with limit temperature of 500°C
Great Permanent flame retardant performance, limit oxygen index LOI>28
High strength, tear resistant, 5 times stronger than high-quality steel wire
Cut resistant and anti- abrasion
Stable chemical performance, resistance to most inorganic acid, good alkali resistance at room temperature
Easy to dye bright colors
The Material Fireproof Sewing Thread Used
Meta Aramid ( Aramid 1313 )
Para Aramid ( Aramid 1414 )
Notes:Meta Aramid, DuPont's registered trademark is Nomex®, Tayho's is Tametar®, and Teijin's is Conex®
Para Aramid, DuPont's registered trademark is Kevlar®, Tayho's is Taparan®, and Teijin's is Twaron®
Our Fireproof Sewing Thread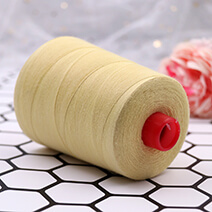 Para-aramid sewing thread
This sewing thread is the thread of choice for high stress, volatile applications requiring extreme strength and heat protection.
check here to learn more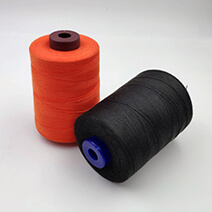 Meta-aramid sewing thread
Made of 100% spun meta-aramide and offers an outstanding, permanent heat and flame protection up to 370°C at an excellent value.
check here to learn more